HOW DO I PREPARE FOR SOD?
• First you want to be sure to have a base that is free of grass or weeds and in most cases 2-6 inches of fresh topsoil or black dirt is recommended.
• Be sure to have a loose base for your new sod. A rock-hard clay/sand base is not ideal, and the sod will more than likely not be able to root and die.
• A starter fertilizer can be spread on your topsoil or black dirt before sod installation to help the sod root down faster and stronger. This step is optional and not necessarily needed but it can promote quicker root growth. We recommend following the directions on the bag. You do not want to over fertilize as this can burn the roots of your new fresh sod.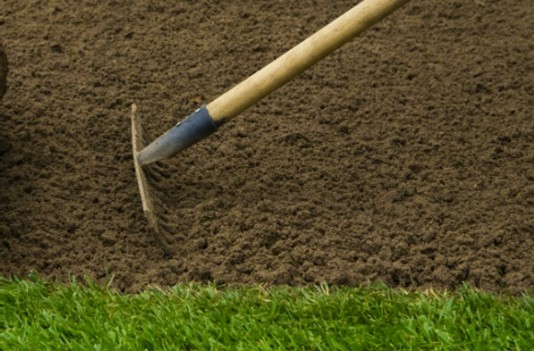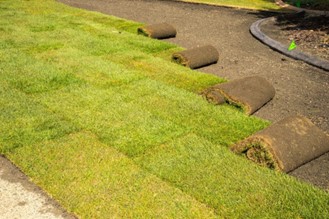 • When installing your new sod, be sure to stagger the rolls. The best way to describe this is to lay them out like bricks. You also want to be sure to butt the seams up nice and tight together. This helps your lawn take a good shape and look great!
• After you install your sod, be sure to WATER it! Water is the most important tool for new sod. Water is the food your new sod needs to help it root down. We recommend a good soaking inch every single day for at least a week. Longer if we are in our hottest months of summer! If it's hot outside (80 degrees and above), keep in mind that your new sod will more than likely need more than 1" of water per day.
• What is the best type of sprinkler?
The BEST sprinklers we recommend are pulsating or rotating. This includes impact or impulse sprinklers.
• Can I walk on my lawn?
We recommend keeping pets and kiddos off of your newly sodded lawn for about a week or until the sod really starts rooting down which is around a week provided you've watered it regularly.
• When can I mow my new sod?
After the sod has started to root down which is usually around a week or so. To be sure that it is rooting down you can pull up gently on the sod edges and notice if it is rooting into the ground. If it is, you can mow! We highly recommend mowing on the highest setting possible on your mower. This helps prevent stressing out your newly laid sod as it will be long after a week!
• Finally, sit back and enjoy your new lawn!